A list of our most frequently asked questions and answers
Our most frequently questions and answers appear below, including ones about technical assistance, the curriculum model in general, enrollment and onboarding, research, implementation, and professional development. If you have additional questions about STREAMin³,
don't hesitate to contact us at Ask STREAMin³ or email us at streamin3@virginia.edu.
STREAMin³ Statewide Rollout
The story of STREAMin³ started with many collaborators and one vision: to bring an affordable high-quality curriculum to a wide range of early childhood education programs.
Have questions about the statewide rollout? Discover where we've been and where we're going on our Past and Present page.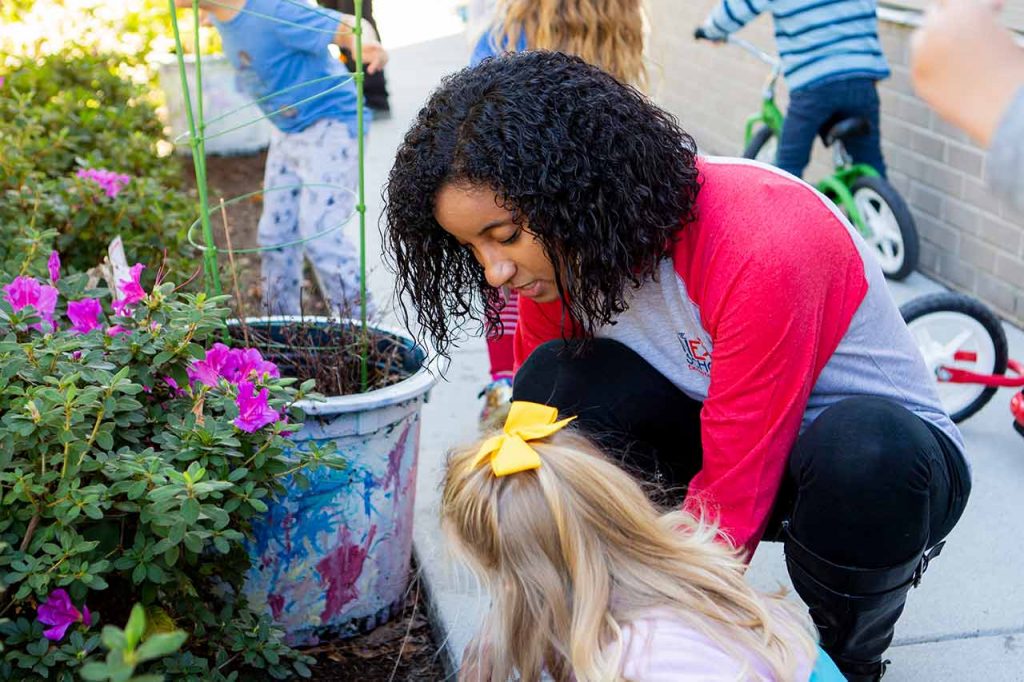 Where can I find my Zoom link for STREAMin³ training?
If you are having trouble signing in to a training or can't find your Zoom link, please contact us at 855-STRMIN3 (855-787-6463).
How can I request an account to access the online curriculum portal?
If you are an enrolled program and need to request a new account for you or your program staff, email us at streamin3@virginia.edu.
 Please include your name and enrolled program name in any request.
I haven't received the curriculum guides or children's books yet. What can I do?
Curriculum guides and lamination resources are shipped to enrolled classrooms by June. A set of free children's books are shipped to enrolled classrooms in August.
If you have questions, please email us at streamin3@virginia.edu.
Where can I view samples of the curriculum?
A curriculum overview and samples are available on our website for your review. These include downloadable guides, games, and resources to get a feel for STREAMin3. Email us at streamin3@virginia.edu.
 if you would like to explore additional samples or have any questions about the samples.
Is STREAMin³ aligned to Virginia's quality & improvement ECE initiatives?
Why increase access to high-quality early childhood curricula in Virginia?
Early childhood educators can use a high-quality curriculum to help young children learn and grow. Yet many programs across Virginia do not have access to a quality curriculum. And, educators say they need more training and resources to use a curriculum well. In response, the Virginia Department of Education (VDOE) and the University of Virginia's Center for Advanced Study of Teaching and Learning (CASTL) now offers a low-to-no-cost curriculum option, STREAMin³, for all publicly funded birth-to-five classrooms in Virginia.
The curriculum provides a high-quality option for infant, toddler, preschool, and mixed-age classrooms. Through the statewide roll-out of the STREAMin³ curriculum model, UVA and VDOE are partnering to ensure all publicly funded birth-to-five educators in Virginia can access high-quality curriculum. The partnership aims to:
Provide access to a low-to-no cost comprehensive, birth-through-preschool, curriculum.
Deliver free professional development (PD) to help programs adopt and use the curriculum.
Develop sustainable resources so programs can use the curriculum and professional development resources beyond the initial rollout years at low-to-no cost.
When will STREAMin³ be available?
STREAMin³ is currently available as an option for publicly funded birth-to-five programs in Virginia at low-to-no cost. See Enrollment and Onboarding section below.
What's included in STREAMin³?
Programs that choose to use STREAMin³ will receive curriculum materials and PD offerings. Access to the professional development supports will vary depending on need and availability. Email us at streamin3@virginia.edu for more information.
What will it cost to use STREAMin³?
Programs enrolled in Group 1 ('22-'23) or Group 2 ('23-'24) will receive printed curriculum guides, children's books, and personalized, responsive professional development for free. For other programs, the cost of the curriculum guides, books, and any additional materials will be affected by what's being ordered, the fluctuating costs of items, the potential for sharing across classrooms, and the resources currently available in a program. We will give all participating programs a purchasing guide to aid in decision-making related to the cost of additional materials that may be referenced or recommended to complete curriculum activities.
Enrollment and Onboarding
Who can enroll to use STREAMin³?
Publicly funded birth-to-five programs in Virginia can request access to STREAMin³. 
How can my program request enrollment?
Programs can complete our enrollment request form, available on our website. Only one representative per program should complete this request. All programs, even those that do not meet the priority criteria, are encouraged to complete a request for enrollment.
What will my program receive if we request enrollment?
We had approximately 4,000 classrooms sign up to use STREAMin³ during the 2022-2024 school years. These classrooms received:
Printed curriculum guides.
A set of children's books to use with the curriculum.
Direct professional development support.

Publicly funded programs who request enrollment after registration is closed will still receive:
Immediate online access to the digital curriculum portal. This includes downloadable guides and activities and PD opportunities for getting started with STREAMin³. 
Can my private preschool program use STREAMin³?
The STREAMin³ curriculum is currently only available to early childhood programs who receive public funding in Virginia.
If your program does not currently qualify, please feel free to check out our ECE Resource Hub to access publicly available resources for early childhood educators and leaders.
My program is based outside of Virginia. Can I request enrollment?
The STREAMin³ curriculum is currently only available to programs located within the state of Virginia. If you'd like, please feel free to check out our ECE Resource Hub to access publicly available resources for early childhood educators and leaders.
Is this curriculum research-based?
Yes, this curriculum is based on research-based developmental standards. Central to STREAMin³ is a focus on what children are learning and how they are learning it. To address the "what," STREAMin³ identifies and focuses on promoting children's development of 5 Core Skills that form the building blocks for later learning and 6 STREAM skills that prepare children for academic success in kindergarten and beyond. Core and STREAM skills map directly onto the theory and research related to what we know about the developmental sequences and expectations that support early learning for infants, toddlers, and preschoolers.
These developmental standards serve as the underlying framework of STREAMin3 to ensure that activities and materials are developmentally appropriate and relevant for children while also serving explicitly as a resource for teachers in supporting their own understanding of children's early learning.
Has STREAMin³ been studied to show its effectiveness?
We conducted an evaluation of STREAMin³ from December 2018 through June 2021. We invite you to review the full report of this evaluation. Despite the substantial undertaking of adopting a new curriculum — and the extraordinary challenges that programs experienced due to COVID-19 — teachers and leaders successfully implemented the STREAMin3 curriculum model. The conclusions from the evaluation were limited because that early pilot test of the curriculum did not include a control group. Additionally, the COVID-19 disruptions limited the data we could collect and made it difficult for many teachers to use the curriculum as intended. For example, many classrooms spent weeks in virtual instruction, and teachers had to adapt activities to work in that very unusual context.
What current STREAMin³ studies are being conducted?
We are currently participating in a full experimental trial to test whether STREAMin³ improves classroom experiences for children and supports school readiness. We hope that results from this trial will be available in 2024.
What age groups does the curriculum cover?
The STREAMin³ curriculum is vertically aligned and can be used with children from birth to age five. It is provided in two options: an Infant/Toddler version and a Preschool version (3-5). A quick snapshot of STREAMin3 provides additional information.
Can this curriculum be used in a multi-age group setting or other types of program settings?
The curriculum has been piloted in multi-age groups and different program types including private, faith-based, VPI, ECSE, and Head Start classrooms. A STREAMin³ guide was created to support mixed-aged classrooms, which we are happy to share if you email us at streamin3@virginia.edu.
You can read more about our implementation pilot, including use in mixed-age classrooms, in the STREAMin3 evaluation report.
Is STREAMin³ aligned to the Virginia's Early Learning and Development Standards (ELDS)?
Yes. The STREAMin³ model aligns with Virginia's Early Learning and Development Standards. View our crosswalk here.
How is STREAMin³ connected to classroom assessments? (e.g., VKRP, CLASS®)
STREAMin³ uses formative assessments, implementation checklists and progress monitoring assessments. STREAMin³ currently recommends the use of the Classroom Assessment Scoring System (CLASS®) and the Virginia Kindergarten Readiness Project (VKRP's) child assessments as progress monitoring tools. The curriculum model, including coaching support and training, are aligned to these measures. Visit our assessment page and review our crosswalks to learn more!
Is STREAMin³ inclusive of different cultures, religions, family models, and lifestyles?
A hallmark of STREAMin³ is dedication to inclusion for each child and family and their unique cultures, backgrounds, strengths, and needs. At a structural level, the curriculum is built to meet the needs of each and every child through intentional instruction and interactions. Our resources are representative of children, educators, authors, and illustrators from a wide range of abilities, backgrounds, races, and cultures.
Does STREAMin³ work in an ECSE classroom?
A hallmark of STREAMin³ is dedication to inclusion for each child and family and their unique cultures, backgrounds, strengths, and needs. At a structural level, the curriculum is built to meet the needs of each and every child through intentional instruction and interactions. Each activity provides guidance on providing more support and challenge. The curriculum includes support for educators as they modify it to meet the strengths and needs of the children in their classroom. STREAMin³ has been piloted and successfully implemented in ECSE classrooms across Virginia.
How does STREAMin³ support literacy?
STREAMin³ prioritizes supporting literacy and language development. Our "Communicate" Core Skill focuses on supporting the foundational language and literacy skills we know children need to thrive. Each week includes four dedicated "Communicate" activities centered around a high-quality children's book. In addition, the curriculum provides ideas for supporting language and literacy throughout the day using short activity cards and games. We are happy to share a guide that outlines all the curriculum resources embedded to support literacy. Our team worked closely with the Virginia Kindergarten Readiness Program and the Virginia Literacy Partnerships (VLP) teams to ensure our model supports the key readiness skills children need.
Will we receive training to support curriculum implementation?
Yes. We know every program has its own needs and interests for professional development. So, we are providing a variety of options to support the implementation of STREAMin³ during the 2023-2024 year, including:
Comprehensive onboarding to get you started.
An ongoing series of professional development training and webinars focused on getting to know STREAMin³.  
A professional development library of resources, available on the ECE Resource Hub. This and other resources are being expanded and will grow over time.  
What is the STREAMin³ Onboarding Training Series?
Every new educator, leader, or implementation support staff should complete our onboarding training.
Onboarding training 2023-2024 was available in 3 different formats:
1. In-person events,
2. Live and online sessions on Zoom, and
3. On-demand learning modules completed in Canvas.
Each onboarding training takes approximately five to seven hours to complete.
In-person and live, online sessions were available in July and August, 2023.
The on-demand learning modules are now available for programs to access throughout the entire year.
I can't attend the STREAMin³ Onboarding Training Series. What should I do?
If you could not attend the onboarding series In Person or Live Online, On Demand learning modules can be completed in Canvas.
Will my program receive direct coaching?
Direct coaching is available based upon need and capacity and reserved for classrooms that indicated they were not using an approved curriculum prior to adopting STREAMin³ in 2023-2024.
What is a STREAMin³ Coach?
Each Ready Region is assigned to a group of STREAMin³ coaches. Coaches will hold weekly regional office hours to answer questions or discuss implementation. They will also be available via email or individual calls, as needed. We are also always available to answer questions. Email us at streamin3@virginia.edu.
Where can I find my training registration confirmation and details?
If you registered for training and have questions regarding training details (including confirmations, details, or updating registration), please contact our team by emailing us at streamin3@virginia.edu.
Have Additional Questions?
Can't find the answer you're looking for? Don't hesitate to contact us.